TOMBE DI PERSONAGGI FAMOSI SEPOLTI IN SVIZZERA
GRAVES OF FAMOUS PEOPLE BURIED IN SWITZERLAND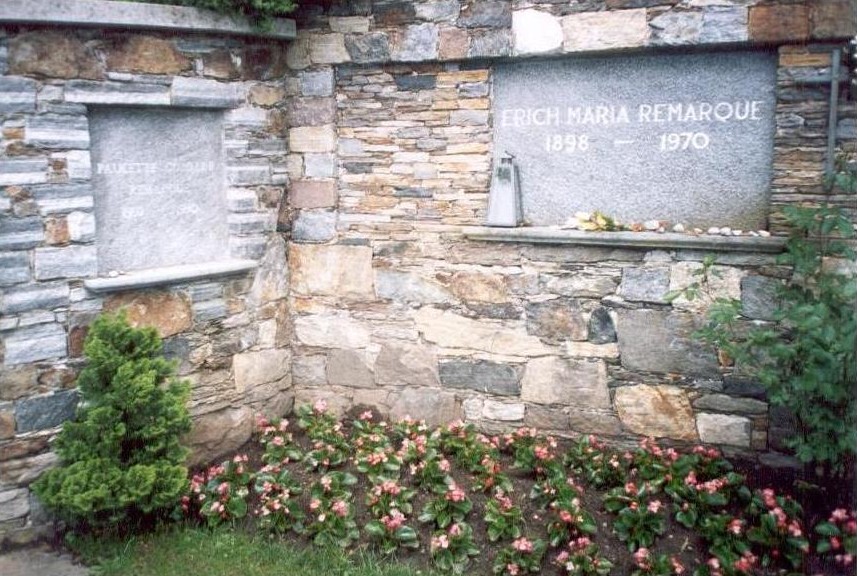 NNel piccolo cimitero di Ronco sopra Ascona-Canton Ticino-Svizzera, a pochi chilometri dalla frontiera Italo-Svizzera di Brissago, sorgono le tombe dello scrittore tedesco Erich Maria Remarque , autore di celebri romanzi tra cui "All' Ovest niente di nuovo" (Im Westen nicht neues), "Ombre in Paradiso" (Schatten im Paradies), "La notte di Lisbona (Die Nacht von Lissabon)
e della moglie Paulette Goddard , ex-moglie di Charlie Chaplin, attrice in due suoi film: "Il grande dittatore", in cui interpretò il ruolo della ragazza ebrea e "Tempi moderni".
In the little cemetery of Ronco sopra Ascona-Tessin-Switzerland, less than 10 Km from the Italian border of Brissago, stand the graves of the German writer Erich Maria Remarque and his wife Paulette Goddard, famous actress, former wife of Charlie Chaplin, co-starring in two his films, "Great dictator" and "Modern times".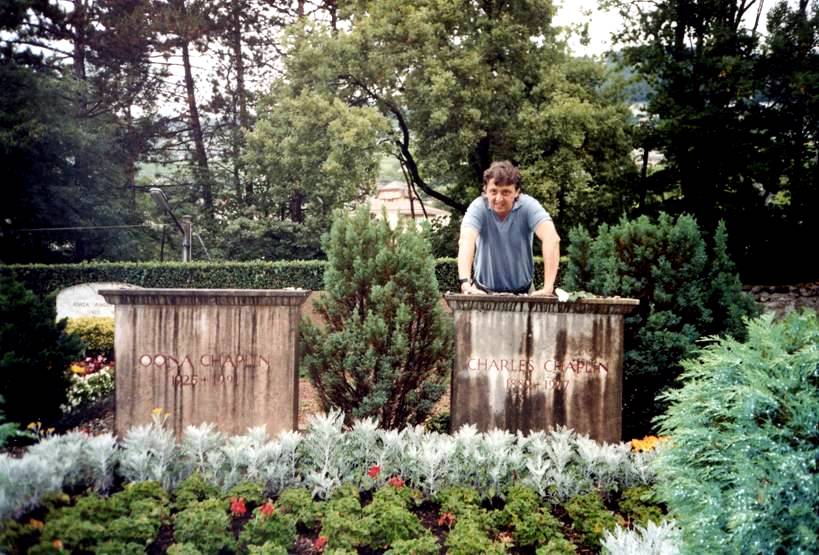 Corsier sur Vevey- Cantone Vaud-Svizzera-Switzerland
La tomba del grande Charlie Chaplin e dell'ultima moglie Oona.
The grave of the great Charlie Chaplin and his last wife Oona.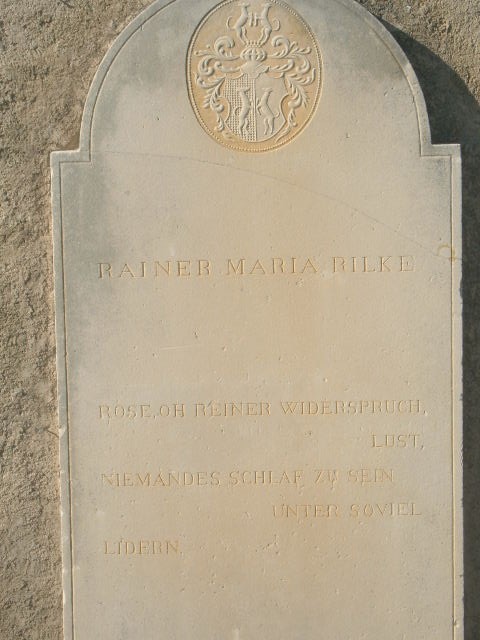 Nel villaggio dalle tipiche case Walser di Raron, nel fondovalle del fiume Rodano, nella parte tedesca del Cantone Vallese, nei pressi di Visp, all'esterno della parete Sud della BurgKirche (Chiesa della Fortezza che domina il villaggio), sorge la tomba del Poeta praghese di lingua tedesca Rainer Maria Rilke, autore, tra l'altro, delle elegie Duinesi, scritte durante il suo soggiorno al Castello di Duino, nei pressi di Trieste, ospite dei Conti Thurn und Taxis. Tra Sistiana e Duino (TS), un sentiero tra le falesie a picco sul Golfo di Trieste, porta ancora il suo nome.
Outside the Southern wall of the BurgKirche (Fortress church) of the typical Walser village of Raron (German part of the Canton Wallis, in the Rhone valley near Visp) stands the grave of Rainer Maria Rilke, the famous poet born in Prague, writing in German language.
He wrote, among other poems, the elegies of Duino, when he lived in the Castle of Duino, near Trieste (Italy), guest of the noble family Thurn und Taxis.
A pathway among the white cliffs, in the Trieste Gulf, near Duino, is still named Rilke's pathway.
<![if !supportLineBreakNewLine]>
<![endif]>L'epitaffio funebre si presta a numerose interpretazioni:
La traduzione letterale suona :
1)Rosa,oh pura contraddizione, desiderio di essere il sonno di nessuno tra così tante palpebre.
ma non ha senso compiuto.

Altrimenti, posto che reiner=Rainer; lidern=liedern
2) Rosa, contraddizione di Rainer,desiderio di essere il sonno di nessuno tra così tanti (bei) versi.
Posto che il sonno simbolizzi la morte, che la rosa simbolizzi la vita,
l'interpretazione prosaica più verosimile è la seguente:
3) Qui giace Rainer, amico della vita, un uomo pieno di contraddizioni, i cui bei versi
si contrappongono alla morte.
Si ringrazia il Professor Gerlach per la corretta traduzione ed interpretazione.

Translation of the funeral inscription:
Rose (Life), oh Reiner's contradiction,
desire to be nobody's sleep (death) among
so many tales.
Interpretation of the funeral inscription:

Here lies Rainer, life's friend, man full of contradictions,
whose nice tales are in contraposition to the death.
Thanks to Prof. Gerlach for the correct translation and interpretation.
Recensione su rivista letteraria online"Il Covile"